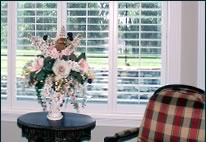 Over the years, customers have come to trust the quality, consistency, and value in our Premier Series shutters. Our Tech Series shutters, made from solid vinyl, are no different. The shutter is produced using solid extruded PVC which creates a durable surface with virtually no blemishes. Unique to the Tech Series, our stiles have a wooden core to provide superior strength.

SMI Tech Series shutters can be crafted into nearly any custom size or shape. Angles and arches have been configured to even the most demanding specifications.
Tech Series shutters are available in standard or custom painted colors. These painted shutters are also available in several finishes.

Whether for the entire home or a few rooms, the SMI Tech Series is a unique alternative to wood.